Sloped Bottom Tanks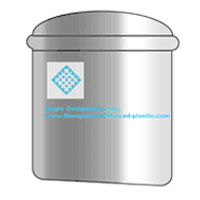 Sloped Bottom tanks are offered as both Internal and External. Internal Sloped Bottoms come standard with a 1" minor and bottom core to sit flat on your support pad. External Sloped Bottoms require the customer to provide a sloped support pad. Magic Tank's standard pitch is 0.5cm per foot to allow drainage to the low side of the slope. Either bottom design requires full bottom support.
Tanks are produced by machine-applied filament winding which gives a higher quality controlled resin content. This produced a tank that is extremely strong, economical
Structural Layer: The structural layer of tanks is a laminate, comprised of an appropriate chemical-resistant resin reinforced with continuous strand fiberglass filament wound in a geometric pattern that is precisely designed to meet stress requirements. Exterior Surface: For added resistance to weathering and chemical exposure, the surface will be protected with a gel coat consisting of a suitable chemical resistant resin containing ultra-violet absorbers. Color may be added at the customer's option.
Closed Dome Top – This is the most frequently requested top style. The ASME Flanged & Dished design gives it the most strength without adding thickness. Each domed top comes standard with a top manhole with loose cover.Closed Flat Top – A fixed, non-removable, flat surface.; If head space is at a premium, if agitator rails are a requirement or flat walking surface is required, the Closed Flat Top may be the best choice. Open Top with 90°Top Flanged Rim – When a Flat Cover, agitator rails or full access to the tank is required, the Open Top with 90° Top Flanged Rim option is the best choice. Open Top with Type II Top Rim – When an open top will work and a Flat Cover and agitator rails are not required, this offers the most cost effective Flat Bottom tank design available.
OEM service - Custom fabrication from your design or we will design to meet your requirements.
Magic Inquiry Form - Tanks (60 KB)