Flat Bottom Tanks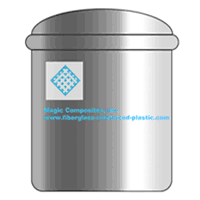 Fiberglass Flat Bottom Tanks are the most common used tanks in the industry. They are the most cost effective way to store product.The tank flat bottom requires a flat surface to give full support. Our tanks meet industry accepted standards including API 12P, ASTM D 3299, ASTM D 4097 and of course Customer's specifications.
Tanks are produced by machine-applied filament winding which gives a higher quality controlled resin content. This produced a tank that is extremely strong, economical
Structural Layer: The structural layer of tanks is a laminate, comprised of an appropriate chemical-resistant resin reinforced with continuous strand fiberglass filament wound in a geometric pattern that is precisely designed to meet stress requirements. Exterior Surface: For added resistance to weathering and chemical exposure, the surface will be protected with a gel coat consisting of a suitable chemical resistant resin containing ultra-violet absorbers. Color may be added at the customer's option.
Closed Dome Top – This is the most frequently requested top style. The ASME Flanged & Dished design gives it the most strength without adding thickness. Each domed top comes standard with a top manhole with loose cover.Closed Flat Top – A fixed, non-removable, flat surface.; If head space is at a premium, if agitator rails are a requirement or flat walking surface is required, the Closed Flat Top may be the best choice. Open Top with 90°Top Flanged Rim – When a Flat Cover, agitator rails or full access to the tank is required, the Open Top with 90° Top Flanged Rim option is the best choice. Open Top with Type II Top Rim – When an open top will work and a Flat Cover and agitator rails are not required, this offers the most cost effective Flat Bottom tank design available.
OEM service - Custom fabrication from your design or we will design to meet your requirements.
Magic Inquiry Form - Tanks (60 KB)